Zeena Schreck, (born Zeena Galatea LaVey , November 19, 1963) is an American artist, musician, author,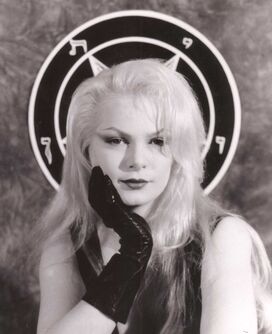 animal rights activist, Tantric Buddhist, and the spiritual leader of the Sethian Liberation Movement (SLM), which she founded in 2002.
Early years and personal life
[
]
Zeena Schreck was born in San Francisco, California to Anton LaVey (April 11, 1930 – October 29, 1997), and Diane Hegarty (b. July 10, 1932), co-founders of the Church of Satan. On May 23, 1967, three year old Zeena had the first and most highly publicized Satanic baptism in history performed by her father. The ceremony garnered world-wide publicity with a reenactment of the ceremony recorded for The Satanic Mass LP. When she was 13 years old she was pregnant and credited learning meditation for getting her through her C-section delivery.
From 1985–1990, she was the High Priestess and spokesperson of the Church of Satan. In 1990 she resigned from the Church of Satan and renounced LaVeyan Satanism. Prior to her disavowal of her father's Church of Satan, Zeena became internationally known within the mass media in the 1980s through her active role publicly defending her father's organization against allegations of Satanic ritual abuse.
Zeena is also the former High Priestess of the Temple of Set (2002), and the co-director of the Werewolf Order and Radio Werewolf, which she led with her husband, musician and author Nikolas Schreck (1988-1998).
Other members of Zeena Schreck's estranged family include: One son, Stanton Zaharoff LaVey (b. January 18, 1978) and two half siblings by common father: half-sister Karla LaVey (b. July 31, 1952) and half-brother Satan Xerxes Carnacki LaVey (b. November 1, 1993). Schreck has no contact with her family, as stated on her official website: "In 1990, Zeena publicly renounced and exposed the fraudulent personality cult she was born into. Her ex-family and the remaining followers of her deceased con-man father reacted to her resignation by indulging in a typical cult-like character assassination campaign against her. Drawing on her own triumph over these and other dysfunctional family experiences, Zeena, a professional bereavement counsellor, founded SLM's public outreach program PHOENIX to help others in similar situations."
Mononymous artist name history
[
]
Professionally, Zeena Schreck is better known mononymously as Zeena, in the same fashion as single-named public figures such as musicians Madonna and Björk.
In 1990, after her renunciation of the Church of Satan, Zeena Schreck severed use of her born name "LaVey" and legally changed the last name, for all official matters, to her married name "Schreck".
In a December 30, 1990 open letter to Michael A. Aquino of the Temple of Set, she stated: "In light of all of the factors herein, I also officially severed my given surname [LaVey] and now prefer to be known only as Zeena. As I feel naturally aristocratic, I also have no need for the empty titles of Magistra or High Priestess that have been bandied about and fought over."[10]
The contact page of Zeena's website explains her ongoing use since then of her one-name artist and spiritual name, "Zeena":
"A Note on Nomenclature: Due to the combination of ignorance and malice which characterises so much "information" on the Internet, we are obliged to make a necessary clarification. Although Zeena simply uses her first name for most of her artistic and spiritual pursuits, her legal married name is Zeena Schreck. She has not used her maiden name "LaVey" since 1990. Therefore, please note that the post office has and will continue to return mail addressed to the now non-existent person "Zeena LaVey". Likewise, communications erroneously addressed to "Zeena LaVey" or "Zeena LaVey-Schreck" or any variant using the name LaVey sent to her representatives [...]will not be forwarded to Zeena."
Church of Satan
[
]
Zeena was the spokeswoman and High Priestess within the Church of Satan during the 1980s. During this period, she appeared on television and radio broadcasts, in part to educate about the Church, and in part to debunk the mythology surrounding the Satanic Panic—a period of time in the same era in which Satanism was blamed for the actions of Satanic ritual abuse.
1980s "Satanic Panic"
[
]
In the 1980s the media reported concerns of criminal conspiracies within the Church of Satan. The FBI would later issue an official report refuting the criminal conspiracy theories of this time. This phenomenon became known as the "Satanic Panic". LaVey's daughter Zeena was the spokeswoman and High Priestess within the Church of Satan during the 1980s.
Some of Zeena's groundbreaking work combating media hysteria about Satanism included taking a pro-active stance against the allegations in the media by working with government sectors and law enforcement agencies to educate about the reality of Satanism. In the 1980s Zeena was in regular contact with law enforcement agencies and personnel, including Detective Patrick Metoyer of the LAPD and Robert D. Hicks, law-enforcement specialist with the Virginia Department of Criminal Justice Services and author of several precedent setting treatises including In Pursuit of Satan: The Police and The Occult, In Pursuit of Satan began the wave of authoritative reports debunking the Satanic Panic. Much of what Hicks gleaned from Zeena's dialogs with him was included in this treatise. Prior to Zeena's dialogs and meetings with government agencies, police and law enforcement didn't know, from the Satanist's point of view, what Satanism truly was.
Zeena's regular appearances on national broadcasts defending the Church of Satan began with a specific event. In a September 2011 interview, Zeena states, "In 1985, a US news show called 20/20 accused The Satanic Bible of being responsible for child daycare Satanic ritual abuse, allegations which were new then. I called my father and asked him what his media strategy would be to deal with this catastrophe. Nothing. He didn't care. As far as he was concerned it didn't concern him. It wasn't anything he needed to worry about. He certainly wasn't going out in public to do anything about it. He admitted that many media sources had already contacted him and he was just going to ignore it until it went away. I tried to convince him that this would only get worse if he didn't respond and that he really needed to get someone to answer calls quickly or it would be taken as an admission of guilt or suspicion. Finally he admitted he had no one to deal with interviews or media. I offered to help temporarily until he found someone. This was not what I'd intended to do with my life, I had other plans."
From then until her renunciation of the Church of Satan in 1990, Zeena appeared in such nationally syndicated programs as The Phil Donahue Show, Nightline with Ted Koppel, Entertainment Tonight, The Late Show, Secrets & Mysteries and the Sally Jesse Raphael Show. The appearances were made at the behest of the Church of Satan as its spokesperson. She did this on behalf of her father Anton LaVey, who was no longer interested in making media appearances, as she stated while being interviewed alongside her husband by televangelist Bob Larson. Zeena became internationally known within the mass media in the 1980s through her active role publicly defending her father's organization against allegations of Satanic ritual abuse and was interviewed in the legendary broadcast of "Devil Worship: Exposing Satan's Underground" released by Geraldo Rivera in 1988. Zeena sat alongside Michael A. Aquino (Temple of Set founder/High Priest), and repeatedly denied the rumors circulating at the time that the Church of Satan was in any way involved with Satanic ritual abuse. She also called the testimony of claimants involved into question, asking them rhetorically why, if people were being forced to give birth to babies for sacrificial rituals, no remains had ever been found.
Toward the end of her time as High Priestess, Zeena also appeared with Nikolas Schreck (not a member of the COS) in an interview with televangelist Bob Larson, during which they both refuted any Satanic criminal ties, and pressed Bob Larson on his own ideals, stating that it was hypocritical of him to endorse such claims by Christians, pointing out the Christian background of many criminals, and violent acts within Christian history, such as the crusades. In 1990, only a few months after this now famous interview, Zeena resigned from the Church of Satan and renounced LaVeyan Satanism. Zeena's Interview on KJTV with Tony Valdez, 1990, was the last interview she granted as public representative and High Priestess of the Church of Satan before resigning.
Radio Werewolf
[
]
From 1988–1993, Zeena was co-director of the experimental sonic magical musical project Radio Werewolf. She served as composer, vocalist, musician and graphic designer on the Radio Werewolf recordings "Songs for the End of the World", "The Lightning and the Sun", "Bring Me The Head of Geraldo Rivera", "These Boots Were Made for Walking", and "Love Conquers All." Her performances were exclusively European-based at that time.
In 2012, Radio Werewolf released The Vinyl Solution - Analog Artifacts: Ritual Instrumentals and Undercover Versions Compact Disc, the first authorized Radio Werewolf release in 20 years.
Quotes
[
]
"When we don't put the brakes on our self-absorption, we have nothing stopping us from total self-destruction. We become the fruits of our actions." 
― Zeena Schreck
"Only those few who are able to surpass their fear of death completely can fully experience the highest forms of life; not the mundane life of the mortal, but the godly life of the resurrected." 
― Zeena Schreck
"Always remember, wherever you are, whether near or far, you had a mother who really, really loved you. The original mother. Once you've found your true inner guru you can never again be divided. Perfect union with the divine, through the grace of your real teacher, transcends time, space, death and all worldly limitations. Your real teacher is the original mother - regardless in which manifest or non-manifest form, or gender, she appears. The one who nurtures you and the one who also, out of wisdom and compassion, corrects you if you are misguided." 
― Zeena Schreck
"Electricity for example was considered a very Satanic thing when it was first discovered and utilized." 
― Zeena Schreck
"It should be noted, as with so many legends and popularly accepted truths created out of political motivation: There, in fact, is no evidence that the hundreds of murders historically attributed to the werewolves of Gévaudan were actually caused by wolves. As with all witchhunts, the endless battle against ignorance requires one to always keep an open mind and sharp wits when considering such rumors - especially the rumors we choose to enjoy." 
― Zeena Schreck